30 facts about Magnus Carlsen on his 30th birthday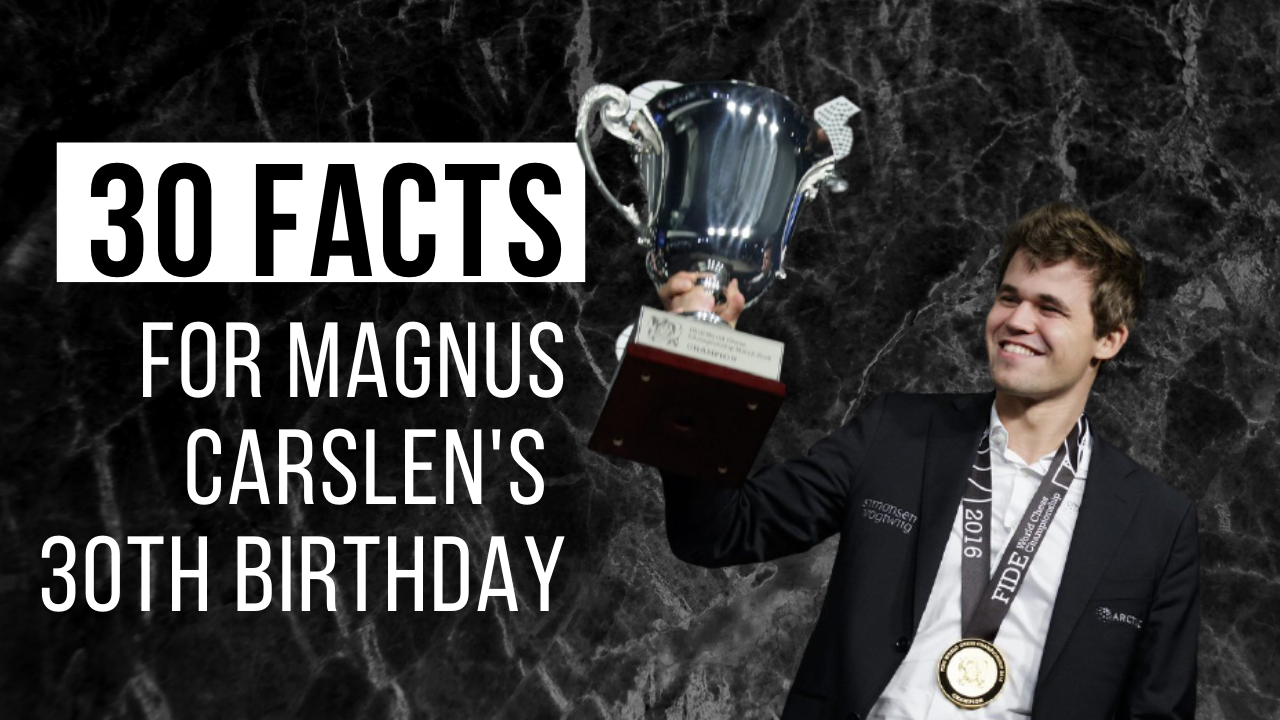 World champion Magnus Carlsen is already a chess icon and his popularity is more like a rock star than a chess player.  Not only his talent but also charisma is what brings him into the spotlight. Let's celebrate his 30th birthday by presenting 30 facts from his life.
Prefer watching than reading? Check out: https://www.youtube.com/watch?v=SARF70mM86Q
His full name is Sven Magnus Øen Carlsen and he was born on 30th of November 1990 in Tønsberg, Norway.

His parents – Sigrun and Henrik are engineers. His father also plays chess – and with a FIDE rating above 2000 can be considered a strong amateur player. He introduced the game to 5-year-old Magnus.

At that time little Magnus didn't show a great interest or talent for chess. However, there were strong signs that his memory and ability to concentrate were far above average. He would sit for hours with puzzles or making advanced Lego models. At the age of 5 he already knew all the countries, their flags, capitals and population.

He has three sisters, one older and two younger. They didn't become professional chess players but thanks to the older sister Magnus finally found an interest in the game when he turned 8. He just wanted to beat her and as she claims – she was the first victim of Magnus Carlsen. Some months later he played his first tournament.

He quickly made progress and was coached by Norwegian grandmaster Simen Agdestein who was also a professional footballer, playing as a striker with the Norwegian national football team. I guess it's no coincidence Magnus fell in love with football too.

In 2003 Carlsen's family rented out their house, sold their car and took a one year break from work and school. They traveled together throughout Europe to explore nice places and allow Magnus to participate in international chess events. In August 2003 he officially earned the title of International Master.

In March 2004 Carlsen's family went to Reyjkjavik, Iceland where Magnus faced the 13th World Chess Champion, the legendary Garry Kasparov. It was a rapid game but a draw against a number one was an absolute sensation. A little video footage of that encounter has more than 7 million views on YouTube!

By the way, he chose to celebrate this success by eating an ice-cream and it seems he is celebrating in the same way nowadays.

Around a month later, precisely at the age of 13 years, 4 months and 22 days he completed all the requirements to become a grandmaster. However, he didn't break the record which was set in 2002 by his contemporary Sergey Karjakin.

Magnus got a visit from Kasparov and had a little training but it was a couple years later that Garry became his personal coach. It was kept as a secret for some time. In 2009 the Norwegian was around number 4 in the world and the goal was to make him number one in the course of the coming year.

Carlsen's rise from a chess prodigy to the top was pretty smooth. In 2007 he broke the 2700 FIDE rating barrier, becoming an elite player. In 2010 with a rating of 2810 he became the youngest person to be the highest rated player in the world. Since July 2011 he has managed to dominate the field and continuously keep his position as world's number one.

He later broke Kasparov's rating record and set a new one – 2882 FIDE rating points.

Magnus Carlsen has attracted many sponsors as a celebrity. Unlike other top chess players he has a full-time manager and usually his blazers and shirts are decorated with different sponsor logos. He has featured in multiple commercials and was even hired as a model by the clothing company G-Star. In 2012 alone he earned more than 1 million dollars, the bulk of which came from sponsorship deals.

Despite having a big chance to be the youngest World Chess Champion in history he shocked the world by depriving himself of that possibility. In 2010 he just withdrew from the qualifying cycle. He was the favorite to win the elimination series and play the match for the title but he didn't like the format and decided not to play.

It was in spring of 2013 that he took part in the Candidates Tournament in London. He played very well and started out strongly but probably lost his nerves towards the end and lost the two last games. He came first by a whisker being lucky that Vladimir Kramnik pushed too hard in his last game as well.

Later in November he challenged reigning World Chess Champion Viswanathan Anand in his home town Chennai in India. He won the title rather easily with the score 6.5 to 3.5, got 1.5 million dollars and celebrated by jumping into the pool.

Before the match he co-founded a company

Play Magnus

which developed a mobile application. You can try yourself against different levels of a chess engine corresponding to Carlsen's strength at given ages.

That year we also saw other successes of Mr Carlsen. He was named by TIME Magazine as one of the "100 Most Influential People" in the world and was selected by Cosmopolitan as one of the "sexiest men of 2013".

Magnus is known to gather a lot of mainstream attention. He took only 12 seconds to checkmate Bill Gates in 9 moves in a TV show.

From an early age he gave simultaneous displays playing against many players at once. To make it more impressive sometimes he played blindfold. He beat ten lawyers from Harvard University this way. After the exhibition one of the opponents asked Magnus if he remembered all the moves in their game. In response he wrote down all of them.

In 2014 he played Vishy Anand for the chess crown again. It was tougher this time. It was so energy consuming that Magnus fell asleep during one of the games. Finally he won the match 6.5 to 4.5 with one round to spare.

So far he has had to defend his title two more times. In 2016 against Sergey Karjakin and in 2018 against Fabiano Caruana. He won these matches but both in the tiebreaks. It wasn't easy but he knew he had a significant advantage over his opponents in a faster time control.

Carlsen is a very practical player. All the top grandmasters know a lot about the game, but his main advantage is that he can patiently prolong the fight. For some of the viewers his style may be described as dull but he is extremely competitive. He isn't afraid to take risks if he feels it gives him a chance to win. In seemingly simple and equal positions he strives for a full point and is able to squeeze water from a stone like no other.

Despite being serious about the results he just enjoys the game. The combination of his abilities, flexibility, sense of humor and desire to have some fun sometimes leads to him trolling fellow grandmasters in the openings.

For Magnus chess is certainly a sport. He cares about his physical shape and diet as well. For many years he drank a mix of orange juice and water for an energy boost during games. He noticed that as he got older it led to a sugar crash. The nutritionists suggested that he instead drink a mixture of chocolate milk and plain milk.

Magnus loves football and is a big fan of Real Madrid. In 2013 he took the kick-off in their match against Real Valladolid. Also in 2014 he started Real Madrid's match versus Celta Vigo.

He also plays in Fantasy Premier League and is really good at it. In December 2019 he was currently number one while there are about 7 million players.

Magnus is successful in promoting chess and running his business. In 2019 his company acquired websites chess24 and Chessable. During the pandemic he staged the richest online tournament in history helping chess to make another big step into e-sport. His projects also focus on teaching others. This year he has released chess courses.

There is a chance you could also challenge the World Chess Champion to play on the Internet. He sometimes plays the viewers in the so-called banter blitz sessions. He streams the game and trash talks.

Spreading love for the game outside the chess community is also important. In 2017 he made a special guest appearance on

The Simpsons

giving some advice to Homer.

Many people are interested in what Carlsen's IQ is. He himself said he has no idea and wouldn't want to know it. "It might turn out to be a nasty surprise" – he added. In another interview he said "I am not some sort of freak. I might be very good at chess but I'm just a normal person".
Well, he surely is an interesting person 🙂